What is Anxious Attachment?
Ambivalent Insecure Attachment
Also know as Anxious attachment, this is a type of insecure attachment style rooted in a fear of abandonment and an insecurity of being under appreciated. People with an anxious attachment style often feel nervous about being separated from their partner.
When people have this attachment style, their inner world feels uncertain so there is little room to be empathic and extend out in their circle of concern.
What Does Anxious Attachment Look Like?
As an adult, anxious attachment style can show up as:
difficulty trusting others
low self-worth
worries that your partners will abandon you
craving closeness and intimacy
being overly dependent
requiring frequent reassurance
being overly sensitive to a partner's actions and moods
being highly emotional, impulsive, unpredictable, and moody
We have a basic need to depend on a partner who is safe and emotionally close. This need is psychological and biological – pre-wired into the limbic brain.
Below are several cards that show what Anxious Attachment looks like and how a securely attached partner behaves in relationship, to both themselves and significant other.
This is an amazing resource reprinted from "thesecurerelationship" found on instagram and created by Julie Menanno LMFT.  For a comprehensive set of her "cards" please order her books, which can be found on her website!
All behavior is reasonable & adaptable
Regardless of our attachment style, we all do things in hope of getting our underlying needs met and to regulate emotion. Anxious Partners do what they do in hopes of creating change & bringing loved ones close.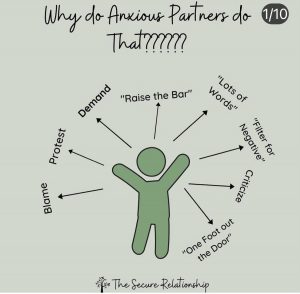 Blame
Protest
Demand
"Raise the Bar"
Lots of Words
Listen & Pay Attention to the NEGATIVE (not positive)
Criticize
One foot out the Door
Understanding the function of each anxious behavior
EFT – Emotionally Focused Therapy Can Help
Emotionally Focused Therapy for individuals, couples and families can help restore Secure Attachment
EFT works with attachment needs, attachment styles, attachment figures to restore safety & security in relationships
Through organizing & corrective experiences in therapy, EFT reshapes attachment bonds and helps heal and restore Secure Attachment
We dismantle anxious, avoidant & disorganizing PROTECTIONS (behaviors) to allow clients to send clearer signals to loved ones in order to receive the love, comfort, closeness, security we all deserve