What is Avoidant Attachment?
Insecure Attachment – Avoidant Style
Avoidant attachment is a type of insecure attachment style that develops when the parent or main caretaker doesn't show care or responsiveness beyond providing the essentials like food/shelter.  In addition, when caregivers are consistently emotionally unavailable or unresponsive to the child's needs and/or repetitively discourage the child from crying or expressing outward emotion.  The child learns to disregard his own struggles and needs in order to maintain peace & keep the caregiver close by.
Children do not experience sensitive responses to their needs or distress.  This attachment style creates adults who are very independent both physically and emotionally and/or who disconnect from their own needs & feelings.  They self soothe and feel that they cannot rely on others, therefore have little motivation to trust or seek support from others.
When people have this attachment style it can lead to difficulties forming close relationships as adults.
What Does Avoidant Attachment Look Like?
As an adult, avoidant attachment style can show up as:
avoiding emotional closeness in relationships
feeling as though their partners are clingy when they want emotional closeness
withdraw and cope with difficulty alone
suppress emotion
avoid complaining, preferring to sulk or hint at what is wrong
suppress negative memories
withdraw, tune out from unpleasant conversations, experiences
fear rejection
have strong sense of independence
have feelings of high self esteem while having negative view of others
being overly focused on their own needs & comforts
We have a basic need to depend on a partner who is safe and emotionally close. This need is psychological and biological – pre-wired into the limbic brain.
Below are several cards that show what Avoidant Attachment looks like and how a securely attached partner behaves in relationship, to both themselves and significant other.
This is an amazing resource reprinted from "thesecurerelationship" found on instagram and created by Julie Menanno LMFT.  For a comprehensive set of her "cards" please order her books, which can be found on her website!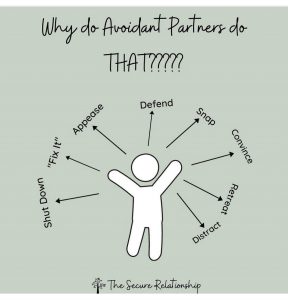 shut down
fix
appease
defend
snap
convince
retreat
distract
Understanding the function of each avoidant behavior
EFT – Emotionally Focused Therapy Can Help
Emotionally Focused Therapy for individuals, couples and families can help restore Secure Attachment
EFT works with attachment needs, attachment styles, attachment figures to restore safety & security in relationships
Through organizing & corrective experiences in therapy, EFT reshapes attachment bonds and helps heal and restore Secure Attachment
We dismantle anxious, avoidant & disorganizing PROTECTIONS (behaviors) to allow clients to send clearer signals to loved ones in order to receive the love, comfort, closeness, security we all deserve