Attachment Theory
Every human has an Attachment Style.
Your style can vary from relationship and experience.  Attachment Styles develop early in life within Family of Origin.  Our Attachment Figures (usually parents) through their responsiveness & continuity to our Attachment Needs, shape & influence our Attachment Style.
Our attachment style is like a template we develop that guides us to navigate our relationship with ourselves and others, and later in life, our adult love partners.
The "cards" below are an amazing resource reprinted from "thesecurerelationship" found on instagram, created by Julie Menanno LMFT.  Please order her books, which can be found on her website!
4 Types of Attachment Styles
Knowing your attachment style is important. It can help you understand yourself and how you view others. This may also help explain the thoughts, emotions, behaviors and reality of where you are today. It is especially helpful to understand the attachment style of your partner to reduce assumptions and conflicts.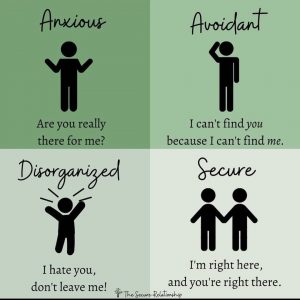 Attachment Styles can move from insecure bonds to secure bonds.  Our mental health professionals can assist you in individual counseling, marriage therapy, couples therapy and family therapy, as necessary.
Moving from insecure to secure attachment teaches you how a relationship with a trusted partner helps you feel calmer in dealing with life. Healthy relationships help people manage, or regulate emotions.
What is MY Attachment Style?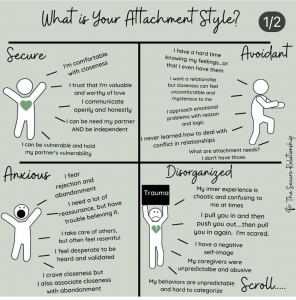 What does HEALING look like?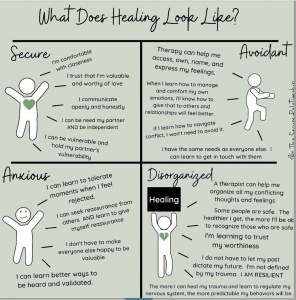 EFT Therapy Can Help
Emotionally Focused Therapy for individuals, couples and families can help restore Secure Attachment
EFT works with attachment needs, attachment styles, attachment figures to restore safety & security in relationships
Through organizing & corrective experiences in therapy, EFT reshapes attachment bonds and helps heal and restore Secure Attachment
We dismantle anxious, avoidant & disorganizing PROTECTIONS (behaviors) to allow clients to send clearer signals to loved ones in order to receive the love, comfort, closeness, security we all deserve