ReConnecting Your Relationship with Emotionally Focused Therapy (EFT)
JHFS uses the gold standard for marriage counseling: Emotionally Focused Therapy. EFT, is a specific treatment modality for couples in distress. During couples counseling, we look at ongoing dynamics and patterns that continue a negative cycle resulting in feelings of disconnection. The overall goal is to deconstruct these patterns and reconstruct new patterns resulting in connection, intimacy and safety.
JHFS can help your relationship get back on track.
Common issues that EFT can help with:
marital distress
lack of communication
distance – conflict
disconnection
lack sexual intimacy
infidelity
substance abuse
Sex/pornography addiction
All relationships experience distress from time to time. We become trapped in a negative cycle that prevents our loved ones from hearing our relational needs, giving responsiveness and over time, this can create distrust, disconnect and chip away at our felt sense of safety in our relationship.
EFT couples counseling is considered the most effective form of marriage therapy. In EFT, your therapist has a road map for therapy to help couples understand the negative pattern that has taken over their relationship and how it impacts things like effective communication, safety, trust, connection and intimacy.
We help couple's create corrective experiences by tuning into the underlying emotional stories (feeling afraid, alone, rejected, not good enough) that sometimes drive more reactive behavior (yelling, criticism, defensiveness, shutting down, stonewalling).

EFT Facts
EFT has empirical data supporting its efficacy
70-75% of couples report improvement
EFT has a road map for therapy
the couple completes 3 distinct Stages of treatment
EFT focuses on where couples get stuck in order to change negative patterns into more positive interactions
How is EFT different than other couples counseling & marriage therapy?
Certified EFT therapists receive years of specific training
EFT is rooted in attachment theory
EFT provides EFT therapists with a road map for therapy
The road map takes couples through distinct stages of therapy
Each stage focuses on specific relational changes
EFT identifies negative cycle in which couples are stuck
EFT creates changes in dynamic, not just behavior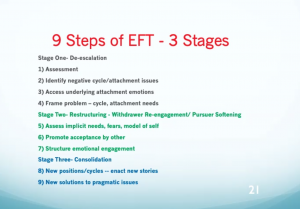 How Relationships Get STUCK – George Faller, LMFT
Why Attachment?
Adult attachment relationships are believed to have the same survival function as the mother-child bond, since ideally these attachments can provide the same love, comfort, support, and protection throughout the lifespan.
love
comfort
support
protection
However, due to our relationship histories, and the negative patterns we get into with our partners, many of us have difficulties with trust and expressing emotion to those who mean the most to us.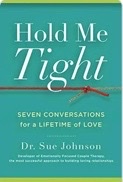 We recommend that couples read the first 57 pages prior to start of therapy. It will give you history and outline of EFT, an understanding of attachment theory and the negative cycle. We will complete a variation of exercise one.
Let us help you fight the negative pattern enemy in your relationship.