What is Disorganized Attachment?
Disorganized attachment is the most extreme insecure attachment style. Also known as fearful-avoidant, it develops from a parent's consistent failure to respond appropriately to their child's distress or by a parent's inconsistent response to their child's fear & distress.
When people have this attachment style, they have a strong desire for intimate connection but also put up walls to protect themselves from getting hurt – like anger, defensiveness, blame.  This attachment style is characterized by fear, mistrust, and inner conflict.
What Does Disorganzied Attachment Look Like?
As an adult, disorganized attachment style can show up as:
poor coping skills
lack of coping strategies
erratic behavior
difficulty dealing with relational issues
unpredictability
volatility
difficulty trusting others
extreme need for closeness, couples with tendency to avoid & push others away
aggressive behavior toward caregivers & partners
negative self image, low self worth
deep rooted shame
feelings of unlovable, inadequate or unworthy
We have a basic need to depend on a partner who is safe and emotionally close. This need is psychological and biological – pre-wired into the limbic brain.
Below are several cards that show what Disorganized Attachment looks like and how a disorganized attached partner behaves in relationship, to both themselves and significant other.
This is an amazing resource reprinted from "thesecurerelationship" found on instagram and created by Julie Menanno LMFT.  For a comprehensive set of her "cards" please order her books, which can be found on her website!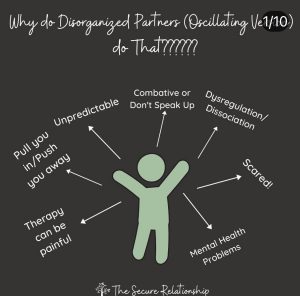 mental health problems
scared
dysregulation/dissociation
combative or don't speak up
unpredictable
push/pull
painful to be in therapy
EFT – Emotionally Focused Therapy Can Help
Emotionally Focused Therapy for individuals, couples and families can help restore Secure Attachment
EFT works with attachment needs, attachment styles, attachment figures to restore safety & security in relationships
Through organizing & corrective experiences in therapy, EFT reshapes attachment bonds and helps heal and restore Secure Attachment
We dismantle anxious, avoidant & disorganizing PROTECTIONS (behaviors) to allow clients to send clearer signals to loved ones in order to receive the love, comfort, closeness, security we all deserve