What is Secure Attachment?
Secure Attachment is being able to be empathetic and able to set appropriate boundaries.  People with secure attachment tend to feel safe, stable, and more satisfied in their close relationships. While they don't fear being on their own, they usually thrive in close, meaningful relationships.
Why is Secure Attachment Important?
Achieving secure attachment in our adult relationship is important because having a partner who fulfills our emotional needs and serves as a secure base, is vital to emotional and physical health.
Securely attached adults:
are more calm and confident
have less depression and anxiety
have a more positive outlook
sustain a deeper sense of meaning and purpose
are able to maintain intimate and reciprocal relationships
are better able to cope with life's challenges and hardships
We have a basic need to depend on a partner who is safe and emotionally close. This need is psychological and biological – pre-wired into the limbic brain.
Below are several cards that show what Secure Attachment looks like and how a securely attached partner behaves in relationship, to both themselves and significant other.
This is an amazing resource reprinted from "thesecurerelationship" found on instagram and created by Julie Menanno LMFT.  For a comprehensive set of her "cards" please order her books, which can be found on her website!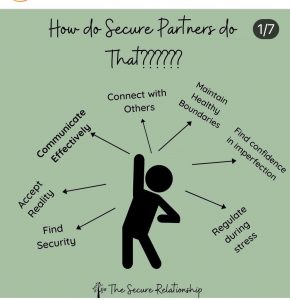 Finding Security
Accepting Reality
Communicating Effectively
Connecting with Others
Maintaining Healthy Boundaries
Finding Confidence with Imperfection
Self Regulation during Distress
EFT – Emotionally Focused Therapy Can Help
Emotionally Focused Therapy for individuals, couples and families can help restore Secure Attachment
EFT works with attachment needs, attachment styles, attachment figures to restore safety & security in relationships
Through organizing & corrective experiences in therapy, EFT reshapes attachment bonds and helps heal and restore Secure Attachment
We dismantle anxious, avoidant & disorganizing PROTECTIONS (behaviors) to allow clients to send clearer signals to loved ones in order to receive the love, comfort, closeness, security we all deserve